The disappearing commons of the suburban landscape
The disappearing commons of the suburban landscape
KEYWORDS
Normality, Park-Development, Schlafstadt
COMMONERS
Residents, neighbourhood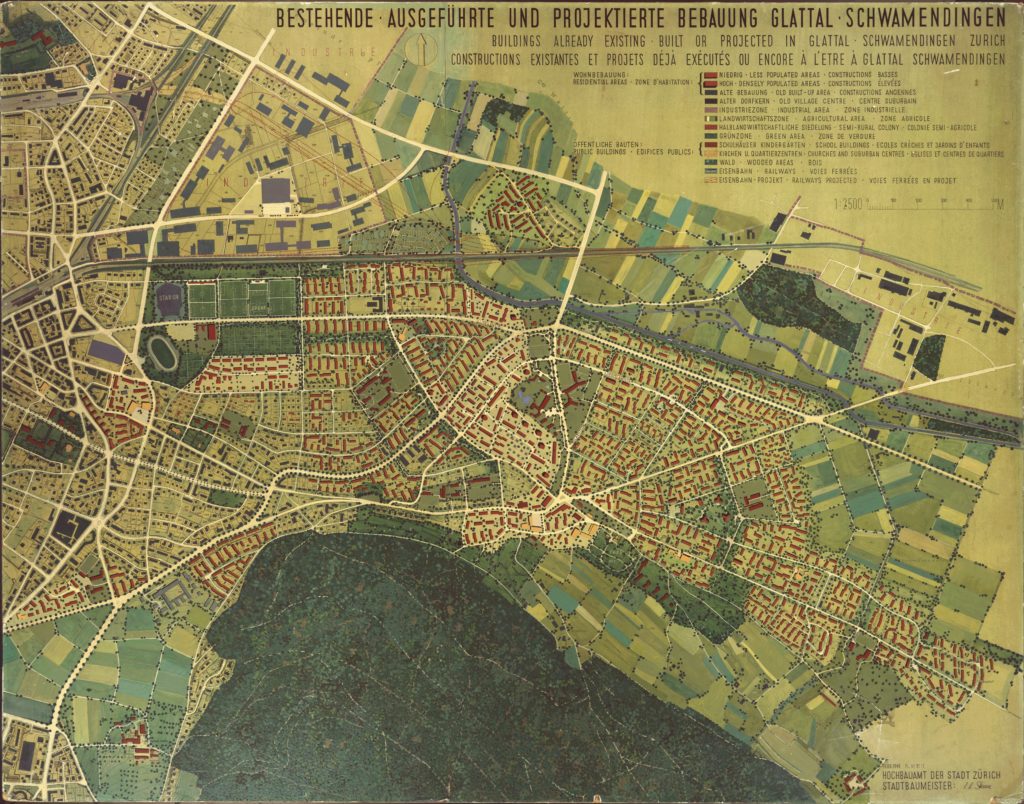 The highest amount of Zurich's housing was produced in the 40s and 50s. Profound social and economic changes shaped an idealization of suburban living in Switzerland's post-war planning in building. Constructing Identity and Normality in times of crisis, created settlements with immense uniformity that were spread over the landscape as park-developments.
A generation of new cooperatives, often founded by workers, came to be. Compared to private actors they could acquire large pieces of land and therefore realize entire neighborhoods including commons spaces, schools and local shops for the community.
Having transformed with an extraordinary pace, Zürich-Schwamendingen is exemplary for swiss building politics of the time. The Dreispitz estate by ASIG, a workers' settlement cooperative, was one of the first to be realized in 1943 and is representative for many others that followed. It was deemed a model for social housing, having followed the common codes for construction described in the booklet "Sozialer Wohnungs- und Siedlungsbau" and issued by the government.
Today, Cooperatives of Zurich's periphery are under a huge pressure for densification and replacement demolition. With redevelopment, housing commons of the suburban landscape seem to be disappearing. A generosity in land-use, that was deemed ideal and healthy, created continuously flowing open spaces. These green environments can be looked at as a composition of grown elements and objects that reflect the common needs of the contemporary.
Passage of time, a sense of neighbourliness and the ordinary everyday life form collective identify. They become visible in the safe environment of lawns, gardens and trees, with washing lines and covered entrances, where you meet your neighbour at the letter box. The commons allow for change over time, through aging, maintenance and renewing.
The value of the ordinary shouldn't be underestimated in material and immaterial commons of housing. Careful orchestration of new developments is crucial for their continuation beyond the intial planning and building.
Rotzler, Willy. "Wohnbau und Grünfläche", in: Das Werk : Architektur und Kunst, Zürich, vol. 37, 1950, pp. 65– 72
Steinmann, Martin. "Auf der Suche nach einer Normalität" in: archithese – Um 1950 – Zürich und Kassel, no. 5, 1986, pp. 15–23
Stoffler, Johannes. "Et in Schwamendingen ego. Anmerkungen zum Zürcher Siedlungsbau der vierziger Jahre und seinen Wurzeln"
In: Topiaria Helvetica, Yearbook, 2004, pp. 44–50
Image 1 –
Zürich-Oerlikon, Siedlung Dreispitz der ASIG Baugenossenschaft an der Saatlenstrasse im Bau
4.5.1946, ETH-Bibliothek Zürich, Bildarchiv, Stiftung Luftbild Schweiz, Fotograf: Friedli, Werner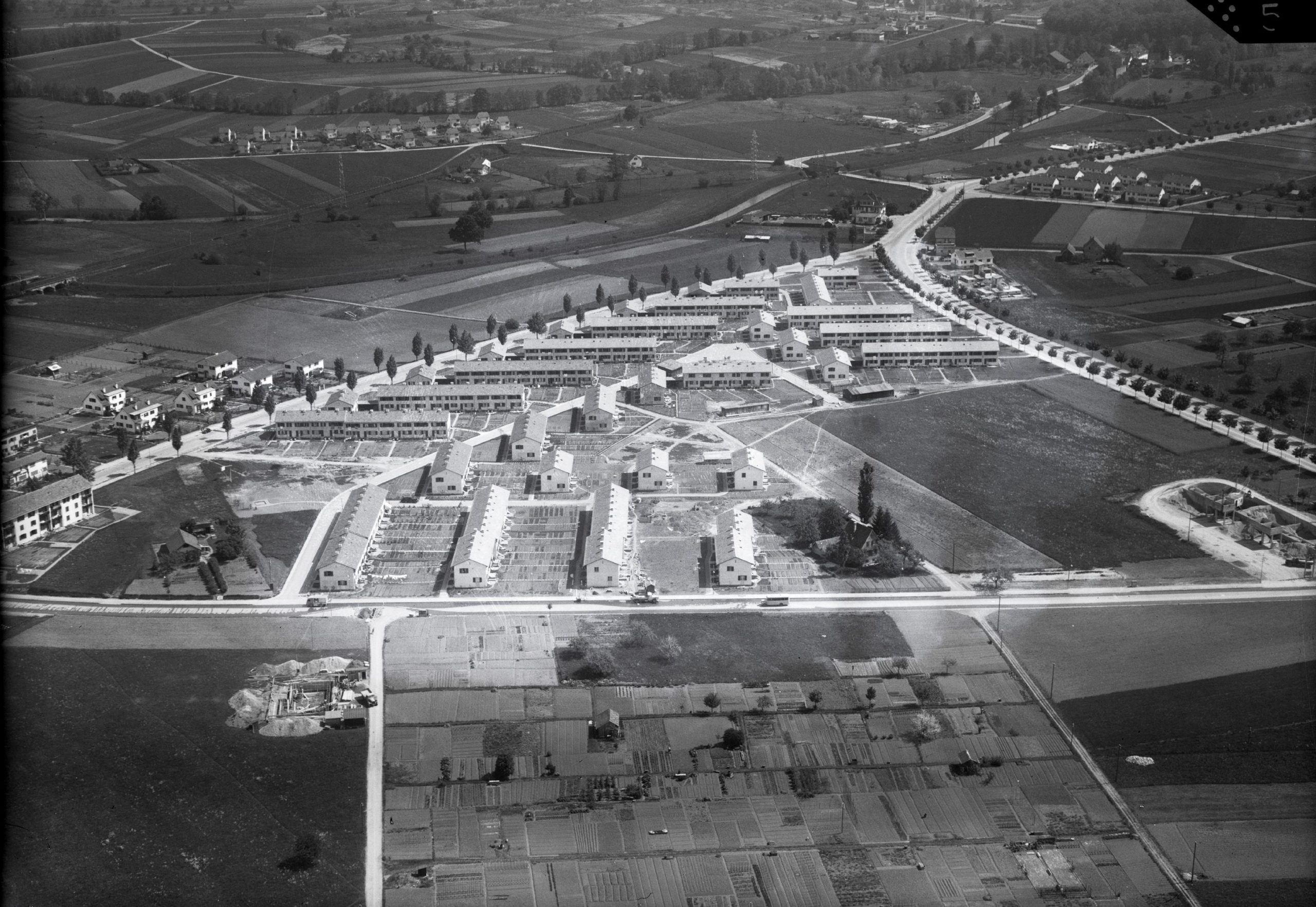 Image 2 –
Grünzug Saatlen, Schwamendingen, Zürich
Michael Wolgensinger, Fotografie 1953, Baugeschichtliches Archiv Zürich (BAZ)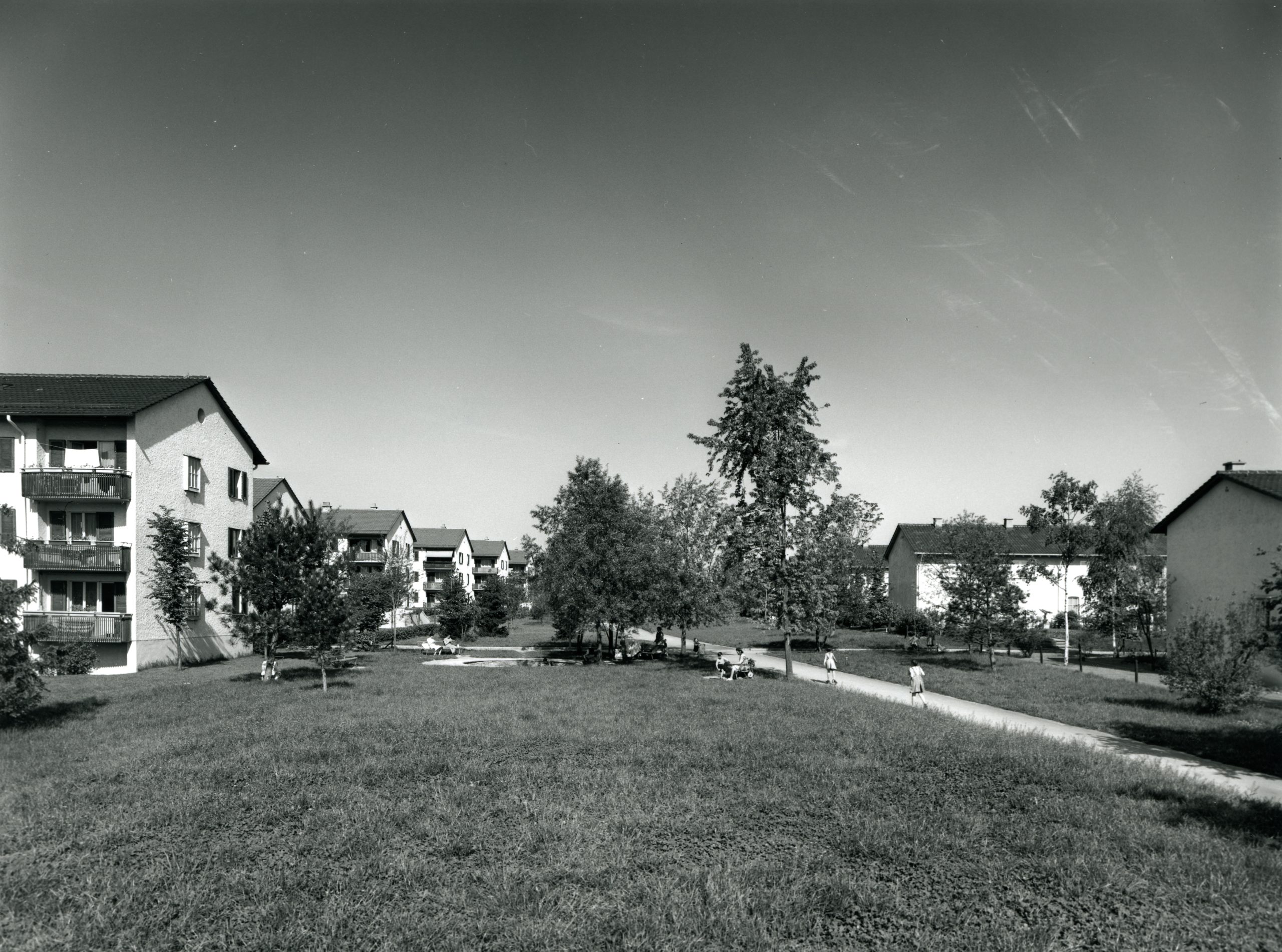 Image 3 –
Dreispitz Settlement, Zürich-Schwamendingen
Sara Lazarevic (19.11.2021)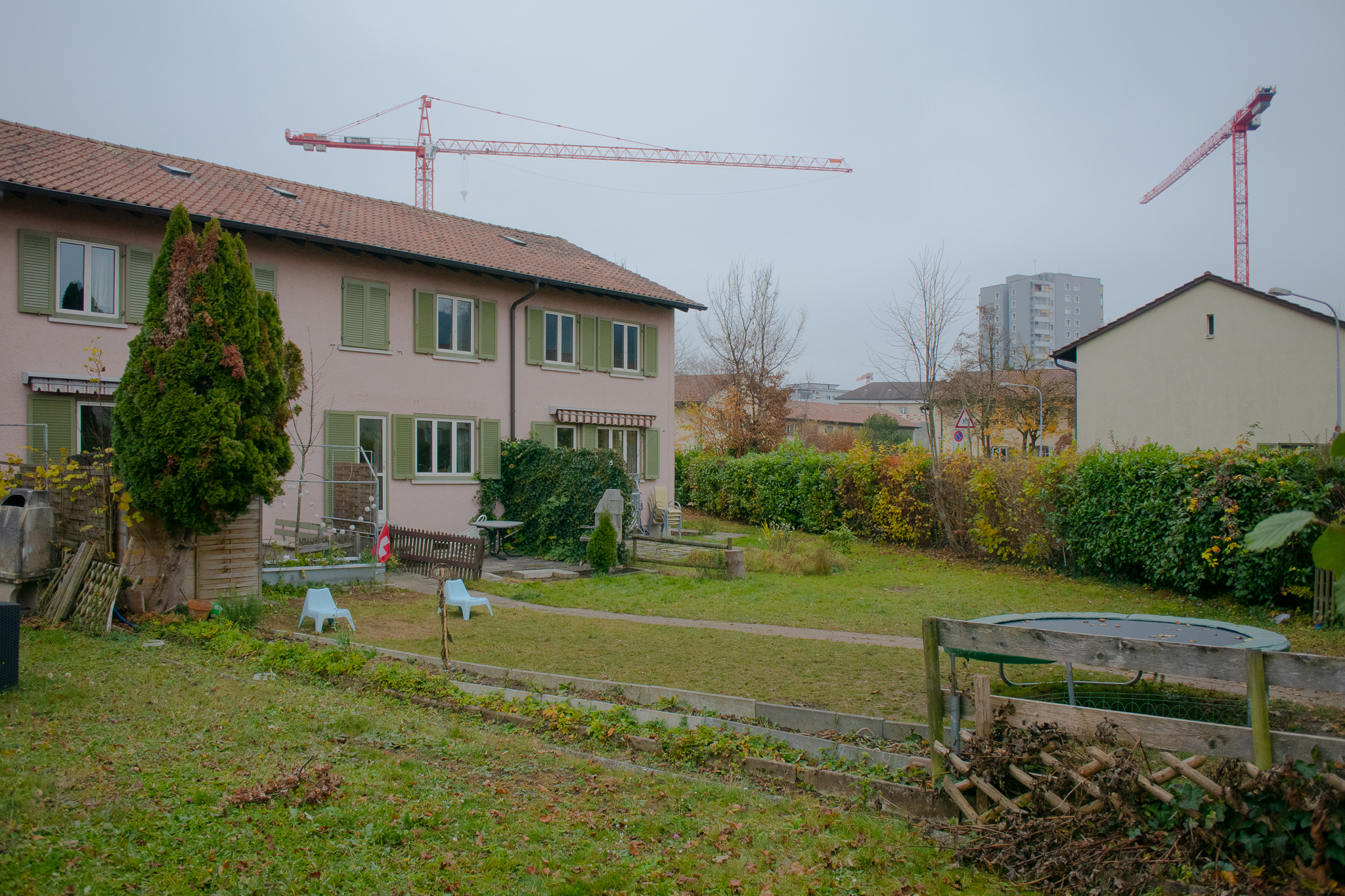 Image 4 –
Zürich-Oerlikon, Siedlung Dreispitz der ASIG Baugenossenschaft an der Saatlenstrasse, Grünraum, Gärten, Kinder und Teppichklopfer
Wolgensinger Michael, Baugeschichtliches Archiv Zürich (BAZ)